Desire Massage Gloves 6 Function: Full Body Massage
Desire Massage Glove 6, has 6 different vibration functions, giving a total body massage and erogenous zone massage which are fantastic foreplay methods. Desire Massage Gloves are a powerful, multispeed glove. The massage glove holds vibrators in the tips of each of the fingers, creating unbelievable sensations for total body stimulation. The massage glove has 3 speeds for your enjoyment. The fingertip vibrators on the massage glove deliver fantastic arousal with 45,000 vibrations per minute at the top speed stimulating your body. The Desire Massage Glove 6 has one touch control for easy handling.
The Desire Massage Gloves are adjustable at the wrist and house all batteries and cords within the glove.
Desire Massage glove is waterproof, which means you can play with it in a pool, the shower, a Jacuzzi...anywhere where water play is a factor. This amazing Massage glove is made of Lycra, a bathing suit material, so your hand will get wet as your body would, however, the battery pack, wiring and all five fingertip motors are all encased in waterproof containers.
Requires 3 x AAA Batteries (Supplied)
Erotic massage has never been this effective or convenient!
Special Features:
All over massage
Powerful
Waterproof
6 vibration functions
One touch controls
Vibrators in fingertip
45000 vibrations per minute
Optional Colour: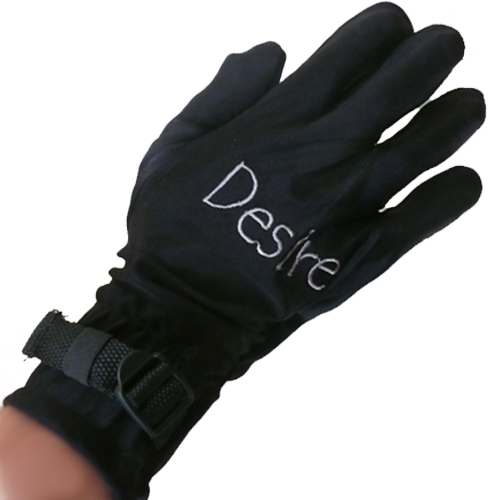 Romantic Touch Glove Black